Over the past two and half decades, political parties have in the 4th republic sought to amass support from various sections of the Ghanaian populace by making efforts to carve their manifestos and campaign promises to accommodate the needs of the people.
The success of these manifestos somewhat depends on how the people perceive these promises. In an ordinary political environment, these promises simply draw a line between the people and the political parties; the people are preys and the promises are mere baits. But in a very discerning democracy, the politicians are sellers whereas the people are the final consumers.
This means that, as buyers, the people must have already scrutinized and vetted these promises and can vouch for its feasibility and hence, see it as a product on sale and not just a promise. For, this probably is all they get in the event that the party emerges victorious at the polls.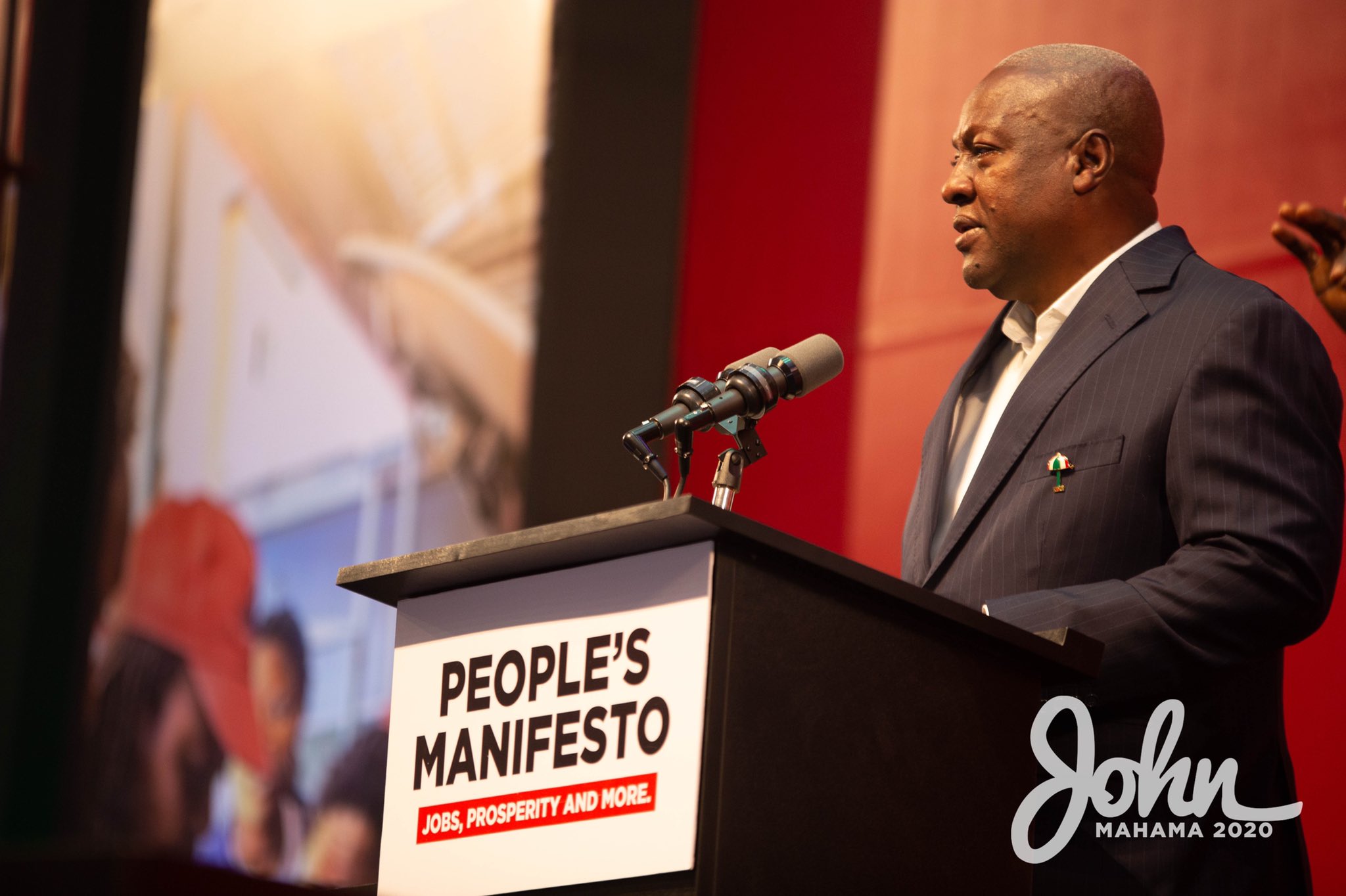 The NDC under the H. E. Former President John Drama Mahama launched their manifesto for the 2020 polls and dubbed it; "The People's Manifesto". This was days after the ruling party – NPP unveiled their manifesto for a re-election bid as the President and Vice President lead the run.
Various policies were unveiled by the two main contending parties in the interest of diverging electorates in the country, but the famous among Muslims and the Zongo communities include the legalization of Okada and the building of special (or Islamic) morgues for the Muslim communities. Incidentally, both are NDC Manifesto elements, even though, the NPP has specific policies for Muslims from their chest as well.
I have decided to mouth on the famous promise of 'Special Morgue' debate, not to debate but to share my opinion and attempt to argue in favor of the said proposed policy. I am doing this as a Muslim and not an anti or pro- any party.
So we ask: as Muslims, do we really need Islamic Mortuaries in our communities? If we do, is it really our priority in our communities?
First of all, yes! We need Morgues as Muslims, and we don't just need orthodox mortuaries similar to those in government and other private hospitals. We need mortuaries that are accommodative to our funeral rituals as Muslims. It is undoubtedly true, that one big failure on the part of Muslims in Ghana and most parts of Africa is the lack of well-outfitted hospitals that operate on the principles of Islamic values and norms.
Muslims across the African continent have lamented this for years and Ghanaian Muslims are not an exception. It is therefore no less than recklessness to, in the name of party colors, lampoon such needful interventions when we know very well that it will be much easily attained if it is made a campaign promise. More especially, since we live in a country where development has no other meaning beyond what fulfills a campaign promise.
The Islamic Morgue is indeed a priority of every well-meaning Muslim who appreciates the grandness of practicing Islam from cradle to grave. As Muslims, our religious rituals do not end with death, but it proceeds beyond that to include what the person says last, a correct way of laying them down, bathing and preparing them, shrouding them, and eventually burying them within the dictate of Islam.
The Islamic mortuaries are much more important than the welfare vans/ambulances that every community Masjid now struggle to possess. It is much more needed than the funeral rooms which only serve as a bathing room for our corpses and nothing more. Is it not as a result of a lack of better morgues that we Muslims reluctantly satisfy ourselves with the corpse rooms and clap for ourselves? Unfortunately, despite this being a palpable truth, we found so many comments rubbishing this proposal as though John Mahama only wish death for Muslims.
Possibilities are that, either those who are against this proposal are (1) non-Muslims (which is understandable, for they do not know, and can never appreciate the value attached to Muslim funerals), or (2) they are Muslims only by name (they know nothing beyond the word Islam), or (3) they are politicians before being Muslims despite their appreciable knowledge in these Islamic rituals (as this is the attitude of Most Ghanaians, we hate to see nothing good about whom we hate). Either reason, let me break it down further this way so that we will review our perceptions.
First of all, let it be known that the Muslim community is never discriminative, lest people accuse them of always wanting division, or accuse those who design exclusive policies to suit the Islamic cultural practices as divisive. All they seek is to be able to have a complete Islamic system. Seeking a complete religious system is not in any way a threat to national cohesion and security, it is rather a course for absolute respect of divergent thoughts, beliefs, and cultures.
The most successful governance system undoubtedly would be one that goes beyond the recognition of the identities of various groups residing in it to recognizing their creedal needs.
The Muslim communities have since long registered their wishes to have, among many things:
1) A separate burial land (cemetery), which some communities eventually got while others are still struggling for. One would not be wrong to say that as of today, all Muslim communities would be happy to have their separate cemeteries. If you ask the reason, you will not get two reasons, you will get only one, and that is: "they want their cemeteries to conform to the Islamic rites."
2) A separate hospital, especially maternity wards so that their women will no longer be stripped naked and delivered by male practitioners who have no right to see their nudity. No Muslim is comfortable with the practices in the present health system. If you ask the reason once again, it is to act in conformity to the Islamic code of ethics.
3) A separate welfare van to carry their corpses to the cemetery. This one has been largely achieved in many communities and it has undoubtedly brought much greater sanity to these communities. Get down to the people and find out how this serves their needs.
4) A separate mortuaries to keep and prepare their corpses for burial. It is in their quest for this that they resorted to rather a bath centers in their communities. If it was not a matter of importance for them, they wouldn't be in a rush to turn away the remains of their relatives they lose on arrival at hospitals. Nationwide, you would notice that Muslims would prefer to smuggle out their dead relatives rather than have them moved to mortuaries, for they hate the processes involved in the traditional mortuaries, and they hate the practices they witness there as well.
Can you imagine the same mortuary attendant who understands nothing of my religious rituals taking charge of the mortal remains of your regional chief Imam or his wife at the morgue? How about keeping them in the same fridge with a notorious armed robbery or a fetish priest? Don't tell me once they are dead, the body is useless. That is not what Islam teaches.
5) A separate labor schedule that can accommodate their daily prayers. Investigate the rationale behind the decision by all Muslims to offer their kids Islamic education from Saturday to Wednesday rather than Monday to Friday. They simply need this to meet their faith demands.
6) A separate dress code at workplaces. This is not to discriminate against anyone's faith, but they just want to keep to their faith without being bothered by anyone. Ask the Ghana Muslim Students Associations in any campus or at any workplace, what their struggle is about when it comes to dressing code.
7) A slot at the Scholarship Secretariat for Muslim youth who travel abroad to acquire an Islamic/Arabic education. It is only in Ghana that when one obtains a scholarship to study in Saudi Arabia, the scholarship secretariat does not recognize you and won't even register you for a monthly stipend. It is done in other African countries. Trust me, this very policy would have changed the livelihood of many Muslim scholars in this country and at the same time make Makaranta more attractive to the Zongos.
Any serious Muslim should see these needs rational and either throw his support behind them or at best remain silent. I found it difficult to understand how some Muslims see these special morgues as needless, yet a few months ago they were everywhere celebrating a coffin. We recall that some of these same party folds who hold placards in protest against Islamic morgues were just yesterday jubilating over a fridge donated by Alhaj Farouk Aliu Mahama – NPP's PC for Yendi constituency.
Read Part 2 below;
The People's Manifesto: On John Mahama's Promise To Build Special Mogues For Muslim Communities (Part 2)